"Literacy is a bridge from misery to hope."
~Kofi Annan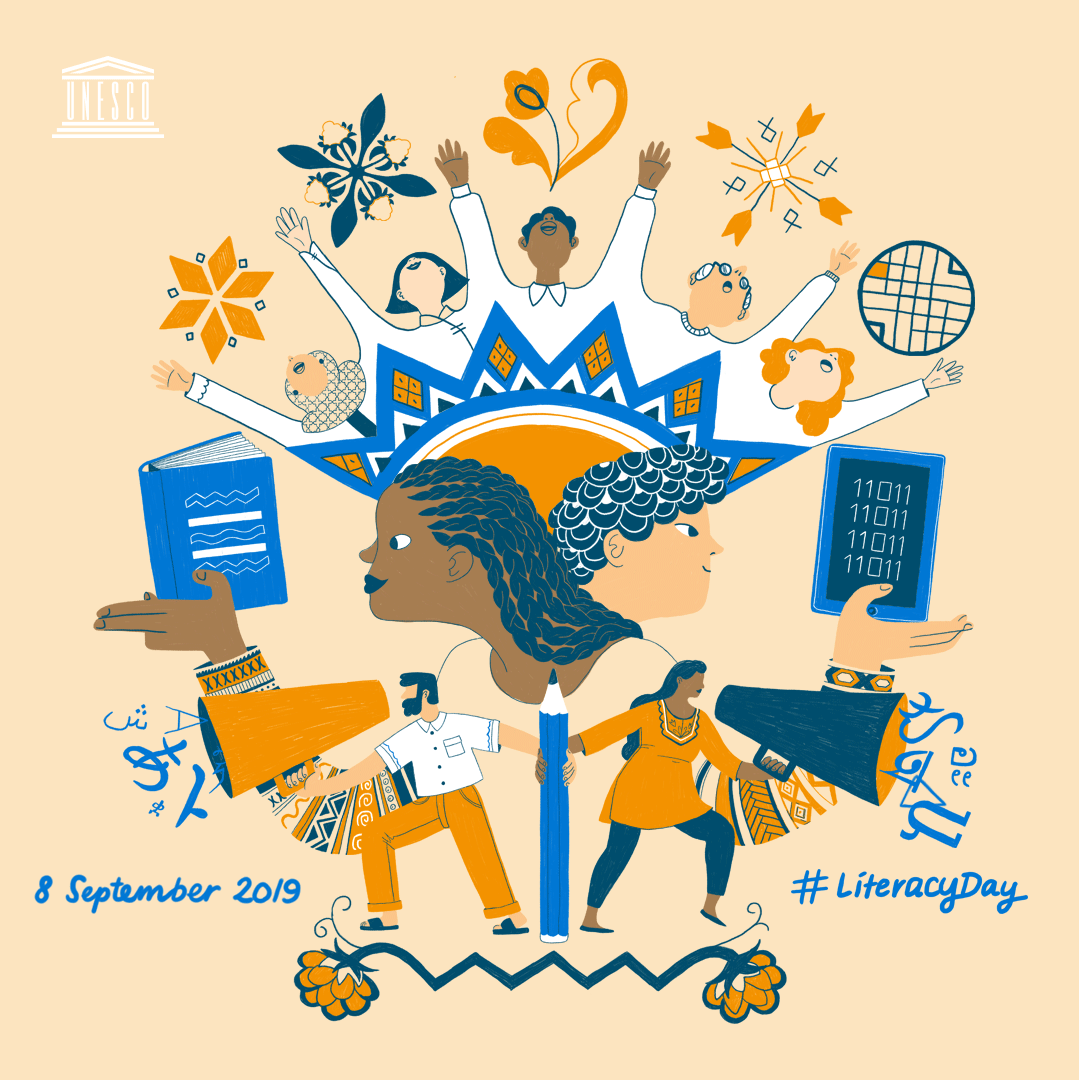 International Literacy Day is 8 September 8th.

Media: Djibril Kebe, UNESCO Media Section, d.kebe@unesco.org
"This year's International Literacy Day will be celebrated worldwide to promote literacy as part of the right to education, as well as a foundation for individuals' empowerment and inclusive and sustainable development. . . .

On the occasion of International Literacy Day 2019, the main characteristics of multilingualism in today's globalized and digitalized world will be discussed, together with their implications for literacy in policies and practice in order to achieve greater inclusion in multilingual contexts. "
"Let us remember: One book, one pen, one child, and one teacher can change the world."
~Malala Yousafzi
Frederick Douglass taught that literacy is the path from slavery to freedom. There are many kinds of slavery and many kinds of freedom, but reading is still the path." "
~
I don't remember learning to read. How did that happen? I remember trying to learn to read German and Spanish and achieving only minimum success. It was harder than I had imagined to look at unfamiliar combinations of letters representing sounds and derive meaning from them.
And now I volunteer tutor for an adult literacy program. My student is from the Ivory Coast. French is the first of the 5 languages he knows, but he needs to read and write and speak in English to pass the USA naturalization test. English is not easy. And gaining literacy is even more difficult if early education doesn't include the experience of reading.
Where does your life intersect with issues of literacy?
Your Challenge: Address the flowering of literacy ~ one instance/element of how it is an entry ticket or a barrier ~ in your

new

poem.
There is no Frigate like a Book
Nor any Coursers like a Page
This Traverse may the poorest take
Without oppress of Toll –
How frugal is the Chariot
That bears the Human Soul –
I could never have dreamt that there were such goings-on
in the world between the covers of books,
such sandstorms and ice blasts of words,,,
such staggering peace, such enormous laughter,
such and so many blinding bright lights,, ,
splashing all over the pages
in a million bits and pieces
all of which were words, words, words,
and each of which were alive forever
in its own delight and glory and oddity and light.
Very soon the Yankee teachers
Came down and set up school;
But, oh! how the Rebs did hate it,—
Our masters always tried to hide
Book learning from our eyes;
Knowledge did'nt agree with slavery—
'Twould make us all too wise.
But some of us would try to steal
And put the words together,
And learn by hook or crook.
I remember Uncle Caldwell,
And greased the pages of his book,
And had his master ever seen
The leaves upon his head,
He'd have thought them greasy papers,
And there was Mr. Turner's Ben,
Who heard the children spell,
And picked the words right up by heart,
And learned to read 'em well.
Well, the Northern folks kept sending
The Yankee teachers down;
And they stood right up and helped us,
Though Rebs did sneer and frown.
And I longed to read my Bible,
For precious words it said;
But when I begun to learn it,
Folks just shook their heads,
And said there is no use trying,
Oh! Chloe, you're too late;
But as I was rising sixty,
So I got a pair of glasses,
And straight to work I went,
And never stopped till I could read
Then I got a little cabin
As the queen upon her throne.
"I would give my husband drawings for grocery lists,
with smiling faces on the eggs, and spider feet
dangling everywhere. I could draw letters too.
fat senseless alphabets, lexical landscapes of
pointed trees and bloated clouds. that is how I
wished words were, with changing colours and
feathers in their spines. on road signs in my
dreams, they shimmied, their Rockette heels a
variegated sunburst. unlike the stiff black
knots and stakes that glared at me from envelopes
and books. . . .
Please share your
new
poem using Mr. Linky below and visit others in the spirit of the community—
(Next week Susan's Midweek Motif will be ~
Looking at Stars
)