"The sun just touched the morning;
The morning, happy thing,
Supposed that he had come to dwell,
And life would be all spring."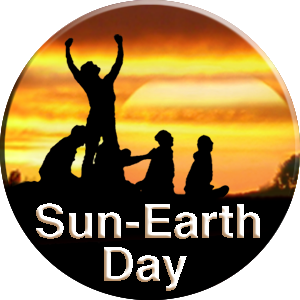 ―
Emily Dickinson
"Even
After
All this time
The Sun never says to the Earth,
"You owe me."
Look
What happens
With a love like that,
It lights the whole sky."
―
Hāfez-e Šīrāzī,
حافظ
Midweek Motif ~ The Sun
There is an event, called Sun-Earth Day:
"Sun-Earth Day

is a joint educational program established in 2000 by

NASA

and

ESA

. The goal of the program is to popularize the knowledge about the

Sun

, and the way it influences life on

Earth

. . . The day itself is mainly celebrated in the

USA

near the time of the

spring equinox

. However, the Sun-Earth Day event actually runs throughout the year . . ." (

From Wikipedia, the free encyclopedia)
And we are coming up on the March Equinox, spring in the Northern Hemisphere and fall in the Southern Hemisphere:
The

March equinox

(or

Northward equinox

) is the

equinox

on the

earth

when the

Sun

appears to cross the

celestial equator

, heading northward. The March equinox is the

vernal equinox

in the

Northern Hemisphere

and the

autumnal equinox

in the

Southern Hemisphere

.
But as Poets we are free to use the sun as myth, symbol, mood, etc:

Your Challenge: Make the sun the center or the central image of this week's poem.
by Robert Louis Stevenson
Great is the sun, and wide he goes
Through empty heaven with repose;
And in the blue and glowing days
More thick than rain he showers his rays.
Though closer still the blinds we pull
To keep the shady parlour cool,
Yet he will find a chink or two
To slip his golden fingers through.
(Read the rest HERE at Poem Hunter.com)
by Emily Dickins

on



There is another sky,
And there is another sunshine,
Though it be darkness there;
Never mind faded forests, Austin,
Never mind silent fields –
Whose leaf is ever green;
Here is a brighter garden,
Where not a frost has been;
I hear the bright bee hum:
Into my garden come!


For those who are new to Poets United:
Post your Sun-centered poem on your site, and then link it here.

Share only original and new work written for this challenge.

If you use a picture include its link.

Please leave a comment here.

Please visit and comment on our poems.
(Our next Midweek Motif is "captivity" :
thinking of terrorism, slavery and other violence.)
Mister Linky's Magical Widgets -- Auto-Linky widget will appear right here!
This preview will disappear when the widget is displayed on your site.
If this widget does not appear,
click here
to display it.